Grilled Queso Fresco with Black Olive Mojo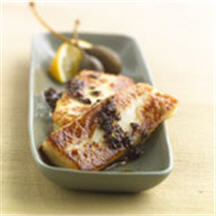 Grilled queso fresco or blanco cheese served with a black olive mojo, lemon wedges and caperberries. Recipe by Chef James Campbell Caruso.
Recipe Ingredients:
Mojo:
1/2 cup pitted kalamata olives
1/2 cup chopped fresh parsley
1 tablespoon chopped fresh mint
2 cloves garlic
1 tablespoon crushed red chile flakes
1 teaspoon ground coriander
1 teaspoon smoked paprika
1/2 teaspoon ground cumin
1 1/4 cups extra-virgin olive oil
Queso Fresco:
1/4 cup vegetable oil
8 pieces (1 x 3 x 1/2-inch rectangles) queso fresco or queso blanco cheese
Salt and ground black pepper, to taste
8 lemon wedges
16 caperberries
Cooking Directions:
For the Mojo: In a food processor, combine all the ingredients and process until finely chopped. Set aside.

For the Queso Fresco: In a cast-iron skillet, heat the vegetable oil over medium-high heat. Sprinkle the cheese with salt and pepper and add it to the skillet. Sear each cheese slice for about 1 minute on each side. The cheese will soften, but hold its shape.

To serve the tapas, transfer the seared cheese slices to a serving platter. Top with the black olive mojo. Garnish with the lemon wedges and caperberries.

Makes 8 servings.
Recipe and photograph provided courtesy of Wisconsin Milk Marketing Board, Inc.