Guacamole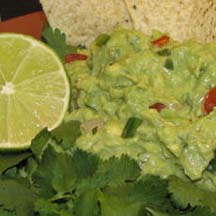 This delicious guacamole is wonderful served both as a dip or as an accompaniment with Mexican and Southwestern foods.
Recipe Ingredients:
2 ripe avocados
1 small tomato, seeded and chopped
1/4 cup finely chopped onion
1/4 teaspoon garlic powder
1 1/2 tablespoons fresh lime juice
1/2 teaspoon cumin powder
1 fresh or pickled jalapeño chile, seeded, membrane removed and minced
3 tablespoons chopped fresh cilantro leaves
Salt and freshly ground black pepper to taste
Cooking Directions:
Halve and pit the avocados and scoop the flesh into a bowl.
Mash the avocados coarse with a fork; stir in remaining ingredients and season to taste with salt and pepper.

Cover well and chill for 20 minutes to allow flavors to marry. For best results, use within 2 hours of preparation.

Makes about 2 cups or 16 (2 tablespoon) servings.
Tips:
When mashing avocados for guacamole, don't over do it, instead try to leave little bits for texture, eye appeal and taste.

When using raw onions in a recipe or as a condiment, always soak the onion in ice water after you have chopped or sliced it. Drain just before using/serving. This removes the unpleasant taste out of the onion, leaving it sweet tasting and crisp. Even the pickiest eater will like raw onions prepared this way.
For a quick guacamole, simply mash the avocados and stir in 3 to 4 tablespoons of your favorite salsa.

Nutritional Facts Per Serving (2 tablespoons): 40.1 calories; 69% calories from fat; 3.4g total fat; 0.0mg cholesterol; 2.9mg sodium; 145.4mg potassium; 2.8g carbohydrates; 1.7g fiber; 0.5g sugar; 1.1g net carbs; 0.6g protein.
Recipe and photograph by Hope Cantil; copyright © 1999; property of CooksRecipes.com. See Terms of Use.