Homerun Sugar Corn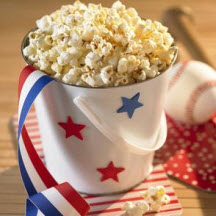 Hit a homerun with this simple recipe for sugared popcorn.
Recipe Ingredients:
1/2 cup unpopped popcorn
3 tablespoons granulated sugar
1/4 cup vegetable oil for popping
Salt to taste (optional)
Cooking Directions:
Heat oil in large sized pan until hot. Add popcorn and sprinkle all of the sugar over it. Cover and shake continuously until popped.
Season with salt to taste.

Makes 8 cups.
Nutritional Information Per Serving (1-cup): Total Calories 69.7; Fat - 3.7 g; Carbohydrate 8.5 g; Sugar 2.4 g; Fiber 1.2 g; Protein .9 g; Sodium .3 mg; Cholesterol 0 mg.
Recipe and photograph provided courtesy of The Popcorn Board.