Honey Figs with Goat Cheese and Pecans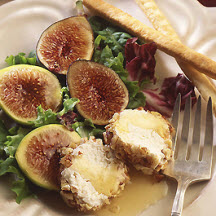 This elegant recipe for Honey Figs with Goat Cheese and Pecans was a Viva Variety Recipe Contest Winner -- Light Category, created by Virginia Willis of Atlanta, Georgia.
Recipe Ingredients:
1 cup chopped pecans
1 (6-ounce) log goat cheese
12 fresh figs such as Calimyrna or Black Mission, halved
3/4 cup clover honey
Kosher or sea salt and freshly ground black pepper
Cooking Directions:
Place the finely chopped pecans in a shallow dish. Season with salt and pepper. Roll the goat cheese log in the pecans to evenly coat. Refrigerate log until firm if necessary, then cut evenly into rounds.

Divide the figs evenly between six shallow bowls or dessert plates. Top figs with a round of pecan-crusted goat cheese. Drizzle 2 tablespoons of honey over each serving.

Serve immediately.

Makes 6 servings.
*Remove white part (the pith) of peel.
Recipe and photograph provided courtesy of National Honey Board.