Indian Spiced California Walnuts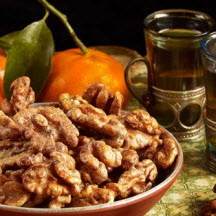 This zesty snack is best made at least one day ahead to allow flavors to intensify. Excellent for party noshing!
Recipe Ingredients:
1 large egg white, lightly beaten
1 tablespoon curry powder
2 teaspoons ground cumin
2 teaspoons ground ground ginger
1 teaspoon ground cinnamon
1 teaspoon salt
4 cups California Walnuts, halves or pieces
Cooking Directions:
In large bowl, combine egg whites with spices; stir in walnuts and coat thoroughly.
Coat a large, shallow baking pan with non-stick cooking spray. Spread nuts onto prepared pan.
Bake in a preheated oven at 350°F (175°C) 15 to 18 minutes, until dry and crisp. Cool completely before serving.
Makes 4 cups.
Microwave Directions: Spread coated walnuts, in batches, in microwaveable dish. Microwave on High, 2 to 3 minutes or until dry and crisp. Cool completely.
Recipe and photograph provided courtesy California Walnuts.