Indonesian Popcorn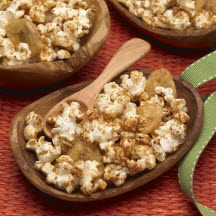 Dried banana chips, peanut butter, soy sauce, garlic and cayenne put the sweet, spicy and savory into this flavorful popcorn snack mix.
Recipe Ingredients:
5 quarts popped popcorn
1 cup dried banana chips
1/2 cup peanut butter
2 teaspoons vegetable oil
1 teaspoon soy sauce
1/4 teaspoon ground garlic
1/4 teaspoon garlic powder
1/4 teaspoon cayenne pepper
Cooking Directions:
Preheat oven to 300°F (150°C).
Combine popped popcorn and banana chips in a roasting pan.
In a small saucepan, stir together peanut butter and oil until blended; add seasonings and heat.
Pour peanut butter mixture over popped popcorn and toss to coat.
Bake in oven for 10 minutes, stirring several times. Cool.
Makes 5 quarts; 20 (1 cup) servings.
Recipe and photograph provided courtesy of The Popcorn Board.