Layered Mexican Bean Dip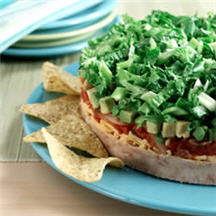 Loaded with yummy vegetables, this layered Mexican bean dip is a great after-school snack that kids will love dipping into.
Recipe Ingredients:
1 (16-ounce) can BUSH'S® Refried Beans or BUSH'S® Pinto Beans*
1/2 cup sour cream
1 tablespoon minced garlic
1 pinch cayenne pepper
1/2 cup shredded, cheddar cheese
1 cup fresh tomato salsa
1 avocado, diced
1 lime, juiced
1 head romaine lettuce, washed, sliced 1/4-inch thick
1/2 cup sliced green onions
6 cups tortilla chips
Salt and ground black pepper, to taste
Cooking Directions:
Line 8-inch spring form pan or baking dish with plastic wrap. Set aside.

Combine refried beans, sour cream, garlic, and cayenne pepper in a bowl. Mix well. Adjust seasoning with salt and pepper if necessary.

Place bean mixture in an even layer in the bottom of the spring form pan. Sprinkle with cheese.

Top with a layer of salsa, scatter avocado on top. Place shredded lettuce and squeeze lime juice on top. Season with salt and pepper. Sprinkle with the green onions. Let sit in refrigerator for 30 minutes.
Remove from sides of the spring form pan, wrapping or trimming the plastic.
Serve on the base with tortilla chips.
Makes 6 to 8 servings.
*If using BUSH'S® Pinto Beans, mash beans lightly with a fork in a medium bowl. Add 1 tablespoon of the liquid for a creamier consistency. Combine sour cream, garlic, and cayenne pepper in the bowl. Mix well. Salt and pepper to taste.
Recipe and photograph provided courtesy of Bush's Beans, through ECES, Inc., Electronic Color Editorial Services.