Light Yummy Yogurt Popcorn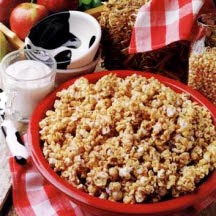 A low-calorie version of caramel corn with the added nutrition of yogurt.
Recipe Ingredients:
2 1/2 quarts popped popcorn (air popped)
1 cup plain non-fat yogurt
6 ounces (3/4 cup) light pancake syrup
2 teaspoons maple or caramel extract
Cooking Directions:
Put popped popcorn in a large bowl and keep warm.
In a 2 1/2-quart saucepan, combine yogurt and light pancake syrup. Bring to 225°F (105°C) on a candy thermometer and remove immediately from heat.
Add maple or caramel extract.
Pour over popped popcorn, stirring to coat.
Makes 2 1/2 quarts.
Nutritional Information Per Serving (3-cups): Total Calories 190; Fat - A Trace; Carbohydrate 38g; Sugar 3g; Fiber 1g; Protein 7g; Sodium 72mg.
Recipe and photograph provided courtesy of The Popcorn Board.