Meatballs with Chipotle Chile Sauce
with Queso Fresca Cheese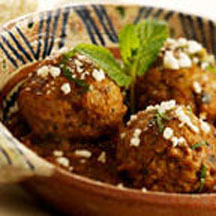 Meatballs are always a favorite at parties, but this recipe also makes a great entrée, as well.
Recipe Ingredients:
Meatballs:
1/2 pound ground beef
1/2 pound ground pork
3/4 cup Wisconsin Cotija or Parmesan Cheese, grated
1/4 cup flat leaf parsley, minced
1/2 large white onion, grated
2 cloves garlic, minced
1/2 teaspoon dried oregano
1/4 teaspoon ground cumin, or to taste
1 teaspoon salt
2 large eggs, beaten
2 slices coarse white bread, crust removed and soaked in 2-3 tablespoons milk
Salt and ground black pepper, to taste
Sauce:
1/4 teaspoon ground cinnamon
1 (16-ounce) jar Chipotle chile salsa
1/4 cup olive or vegetable oil
1 cup chicken broth
1 sprig mint (or pinch ground dried mint)
1 cup Wisconsin Queso Fresco Cheese, crumbled
1/4 cup cilantro, chopped
Cooking Directions:
For Meatballs: With your hands, combine meatball ingredients in bowl. Refrigerate one hour.
Shape meatballs in desired size, depending on use--main course or appetizer.
For Sauce: Add cinnamon to chile salsa.
Heat oil until quite hot (not smoking) in heavy, deep skillet. Add the salsa and "fry" until thick (it will splatter). Add broth. Bring to boil. Stir in mint. Add meatballs. Simmer 30 minutes, or until meatballs are done.
Garnish each serving with crumbled Queso Fresco, cilantro and additional mint, if desired.
Makes 4 servings as a main course, 10 to 12 servings as appetizers.
Recipe and photograph provided courtesy of Wisconsin Milk Marketing Board, Inc.