Mocha Fondue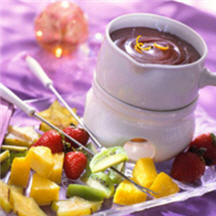 Update chocolate fondue with a hint of coffee, and serve it with meringue cookies as crispy dippers.
Recipe Ingredients:
1 (4-ounce) package sweet baking chocolate, broken up
4 ounces semisweet chocolate, chopped
2/3 cup light cream or milk
1/2 cup sifted powdered sugar
1 teaspoon instant coffee crystals
2 tablespoons coffee liqueur
Assorted fruits (such as star fruit slices, pineapple chunks, kiwi fruit wedges, strawberries, pear slices, banana slices)
Meringue cookies
Cooking Directions:
In a heavy saucepan combine chocolates, cream, sugar, and coffee crystals. Heat and stir over low heat until melted and smooth.
Remove from heat; stir in liqueur. Pour into a fondue pot; keep warm over low heat.
Serve with fruit and cookies.
Makes 6 to 8 servings.
Recipe provided by Better Homes and Gardens - BHG.com a member of the Home and Family Network for the best of cooking, gardening, decorating and more. © 2003 Meredith Corporation. All Rights Reserved.