Parmesan Shallot Beignets
with Roasted Grape Dipping Sauce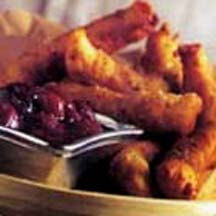 These crisp, savory snacks are a festive and satisfying accompaniment to a glass of wine or cocktail. The simple grape sauce can easily be made ahead of time and reheated as needed.
Recipe Ingredients:
2 quarts seedless red grapes
2 tablespoons olive oil
2 tablespoons balsamic vinegar
1/2 teaspoon ground black pepper
1 pound shallots, peeled and thinly sliced
1/4 cup butter
1 tablespoon minced garlic
4 cups all-purpose flour
2 teaspoons salt
2 teaspoons dried thyme
2 teaspoons dried basil
1 teaspoon baking powder
4 large eggs
3 cups milk
3 cups grated Parmesan cheese
1 teaspoon ground black pepper
3 cups or more vegetable oil, for frying
Cooking Directions:
Preheat oven to 450°F (230°C). Toss grapes with olive oil, vinegar and pepper and place in roasting pan. Roast until grapes have wrinkled and browned slightly and juices have reduced to a syrup, about 25 minutes. Remove half of grapes to a blender; pulse until chopped but not smooth. Mix with remaining grapes. Set aside.
Sauté shallots in butter over medium-high heat until golden brown, 5 to 7 minutes. Add garlic, cook 1 minute more and remove from heat; cool to room temperature.
Combine flour, salt, thyme, basil and baking powder in medium bowl; whisk in eggs and milk until smooth. Stir in shallot mixture, cheese and pepper.
Place some of the batter in a pastry bag. Squeeze 6-inch strips of the batter into hot oil. Cook until golden brown all over, about 2 minutes. Drain beignets well and keep warm while frying the remaining batter.
Serve beignets sprinkled with salt and fresh minced basil. Accompany with warm Roasted Grape Dipping Sauce.
Makes 12 servings.
Recipe and photograph courtesy of the California Table Grape Commission.