Party Candy Caramel Corn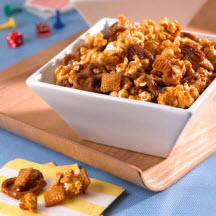 For authentic movie house taste, use typical theater candies in this fun caramel corn.
Recipe Ingredients:
16 cups popped popcorn
5 cups miniature pretzels
2 cups firmly packed brown sugar
1 cup butter or margarine
1/2 cup dark corn syrup
1/2 teaspoon salt
1/2 teaspoon baking soda
1 cup salted peanuts
2 cups your favorite movie candy (candy-coated milk chocolate pieces, candy corn, chocolate-covered raisins, miniature chocolate mints, etc.)
Cooking Directions:
Heat oven to 200°F (95°C).
In large roasting pan combine popcorn and pretzels; set aside.
In 2-quart saucepan combine brown sugar, butter, corn syrup and salt. Cook over medium heat, stirring occasionally, until mixture comes to a full boil (12 to 14 minutes). Continue cooking, stirring occasionally, until candy thermometer reaches 238°F (140°C) or small amount of mixture dropped into ice water forms a soft ball (4 to 6 minutes).
Remove from heat; stir in baking soda. Pour over popcorn and pretzels; sprinkle peanuts over caramel mixture. Stir until all popcorn is coated.
Bake for 20 minutes; stir. Continue baking for 25 minutes. Remove from oven; stir in candy. Immediately place caramel corn on waxed paper; cool completely. Break into pieces. Store in tightly covered container.
Makes 6 quarts.
Recipe and photograph provided courtesy of The Popcorn Board.