Pico de Gallo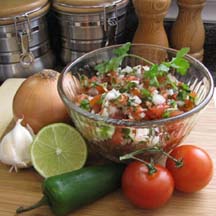 Serve this fresh tomato and jalapeño salsa as an appetizer with crisp tortilla chips, or as a condiment for a variety of foods. For the ultimate accompaniment pairing, serve with Homemade Tortilla Chips.
Recipe Ingredients:
4 large ripe tomatoes, seeded and chopped
1 medium white or red onion, finely chopped
4 to 6 fresh or pickled jalapeño peppers, seeded and chopped
2 green onions, finely chopped
4 to 6 cloves garlic, finely minced
4 tablespoons chopped fresh cilantro
2 teaspoons green jalapeño sauce
1 1/2 teaspoons brown sugar, firmly packed
1/2 teaspoon kosher or sea salt, or to taste
Freshly ground pepper to taste
Juice of 1 small lime (about 2 tablespoons)
Cooking Directions:
Combine all ingredients in glass (or non-reactive) bowl. Cover and refrigerate until ready to use. Will keep for up to a week in the refrigerator.

Makes 48 (2-tablespoon) servings, or about 6 cups salsa.
Tips:
To "ripen" tomatoes and improve their taste, do not refrigerate when you first bring them home from the grocery store. Place the tomatoes, stem side-side down in a basket on your counter. Allow a few days to continue ripening. When they have ripened to your taste, then refrigerate. This really does improve the flavor and it's a must when vine-ripened are not available.

When using raw onions in a recipe or as a condiment, always soak the onion in ice water after you have chopped or sliced it. Drain just before using/serving. This removes the unpleasant taste out of the onion, leaving it sweet tasting and crisp. Even the pickiest eater will like raw onions prepared this way.
Nutritional Information Per Serving (2 tablespoons): 5.5 calories; 6% calories from fat; 0.0g total fat; 0.0mg cholesterol; 22.1mg sodium; 48.4mg potassium; 1.3g carbohydrates; 0.3g fiber; 0.7g sugar; 1.0g net carbs; 0.2g protein.
Recipe and photograph by Hope Cantil; copyright © 1999; property of CooksRecipes.com. See Terms of Use.