Popcorn con Pesto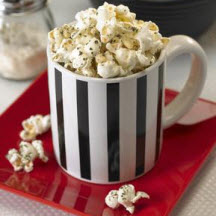 Give your popcorn an Italian make-over and dress it up with a delicious pesto coating!
Recipe Ingredients:
5 quarts popped popcorn
1/2 cup melted butter
1 tablespoon dried basil leaves, crushed*
1 teaspoon dried parsley, crushed
1 teaspoon garlic powder
1/3 cup freshly grated Parmesan cheese
1/2 cup pine nuts (optional)
Cooking Directions:
Put popped popcorn in a large bowl and keep warm.
In small saucepan, melt the butter; add basil, parsley, garlic, Parmesan cheese and nuts. Stir to blend. Pour over popped popcorn, stirring well.
Makes 5 quarts.
*Dried thyme or oregano, or combination of ingredients, may be used in place of basil.
Recipe and photograph provided courtesy of The Popcorn Board.