Queso Verde Dip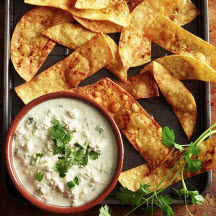 You'll need hefty chips to scoop up this cheesy verde dip, conveniently made ahead in a slow cooker. Loaded with hearty ground turkey, green salsa and hints of smoky cumin, it's a fresh take on Mexican-style chips and dip.
Recipe Ingredients:
1 pound uncooked ground turkey
3/4 cup chopped onion (1 large)
1 tablespoon cooking oil
1 (16-ounce) jar green salsa (salsa verde)
1 (8-ounce) package cream cheese, cut up
2 cups shredded Monterey Jack cheese (8 ounces)
1 medium poblano pepper, seeded and chopped*
1 tablespoon Worcestershire-style marinade for chicken
1 teaspoon ground cumin
2 cloves garlic, minced
1 tablespoon snipped fresh cilantro
Tortilla chips for accompaniment
Cooking Directions:
In a large skillet cook ground turkey and onion in hot oil over medium heat until turkey is no longer pink and onion is tender. Drain off fat.
In a 3 1/2 or 4-quart slow cooker combine turkey mixture, salsa, cream cheese, Monterey Jack cheese, poblano pepper, Worcestershire marinade, cumin, and garlic.
Cover and cook on low-heat setting for 3 to 3 1/2 hours or on high-heat setting for 1 1/2 to 1 3/4 hours. Stir until cream cheese is blended. Serve immediately or keep covered on warm or low-heat setting for up to 2 hours. Stir before serving. Sprinkle with cilantro. Serve with tortilla chips.
Makes 22 (1/4-cup) servings.
*Because hot chile peppers, such as poblanos, contain volatile oils that can burn your skin and eyes, avoid direct contact with chiles as much as possible. When working with chile peppers, wear plastic or rubber gloves. If your bare hands do touch the chile peppers, wash your hands well with soap and water.
Nutritional Information Per Serving (1/22 of recipe; 1/4 cup): 122 kcal cal., 9 g fat (5 g sat. fat, 37 mg chol., 146 mg sodium, 3 g carb., 0 g fiber, 7 g pro.
Recipe provided by Better Homes and Gardens - BHG.com a member of the Home and Family Network for the best of cooking, gardening, decorating and more. ©2003 Meredith Corporation. All Rights Reserved.