Rainbow Popcorn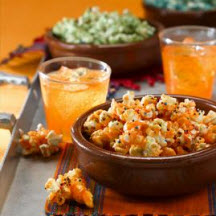 Choose your favorite flavor of gelatin to make this candied popcorn treat. For a more festive look, add colored candy sprinkles.
Recipe Ingredients:
2 quarts (8 cups) popped popcorn
1/4 cup butter or margarine
3 tablespoons corn syrup
1/2 cup granulated sugar
1 (3-ounce) package gelatin, any flavor
Colored candy sprinkles (optional)
Cooking Directions:
Preheat oven to 250°F (120°C).

Line a baking sheet with waxed paper or foil; set aside.

Spray a large bowl with cooking spray (to reduce sticking) and place popcorn inside; set aside.
Heat butter, corn syrup and sugar in a small saucepan over medium-low heat, stirring to blend.

When butter is melted, stir in gelatin until completely dissolved.

Bring mixture to a boil. Reduce heat to low and simmer 5 minutes, stirring frequently.

Immediately pour hot mixture over popcorn and stir to coat completely.
Spread onto prepared baking sheet and sprinkle with sugar sprinkles, if desired.

Bake 12 minutes; cool in pan.

Break into small pieces to serve. Store in an airtight container.
Makes 8 (1 cup) servings.
Recipe and photograph provided courtesy of The Popcorn Board.