Roasted Red Pepper Stuffed Mushrooms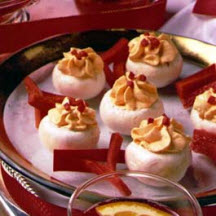 Recipe courtesy of the Mushroom Council.
Recipe Ingredients:
1 pound medium size fresh white mushrooms
1 (8-ounce) package cream cheese, softened
1/4 cup roasted red peppers, patted dry (from a 7-ounce jar)
2 tablespoon freshly grated Parmesan cheese
1 teaspoon minced garlic
Pinch ground red pepper
Garnish: Toasted pine nuts, sliced olives and flat-leaf parsley
Cooking Directions:
Remove stems from mushrooms; reserve caps; set aside for another use.
In a bowl of a food processor fitted with a metal wing blade, place cream cheese, roasted red peppers, Parmesan cheese, garlic and ground red pepper. Process until smooth, about 1 minute.
In a pastry bag fitted with a large star tip, place cream cheese mixture. Pipe into mushroom caps; garnish with toasted pine nuts, sliced green olives and parsley leaves, if desired.
Makes 8 servings.
Tip: Mushrooms may also be filled with a small teaspoon or you may place the cream cheese mixture in waxed paper folded into a funnel and pipe into the mushrooms.
Recipe and photograph courtesy of the Mushroom Council.