Rumaki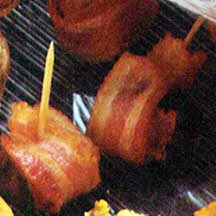 For this version of rumaki, marinated chicken livers are stuffed with a slice of water chestnut, wrapped in bacon, dipped in brown sugar and baked until crisp.
Recipe Ingredients:
6 chicken livers, quartered
12 slices bacon, halved crosswise
2 cups soy sauce
12 water chestnuts, sliced thin (preferably fresh)
1 cup loosely packed light brown sugar
1 tablespoon minced fresh ginger (optional)
Cooking Directions:
Marinate chicken livers and bacon in soy sauce (adding ginger if desired) 4 hours in refrigerator. Toward end of marinating period, preheat oven to 400°F (205°C).
Make slits in each chicken liver piece and insert water chestnut slice. Dip in brown sugar, wrap in bacon, and fasten with toothpicks; again dip in brown sugar.
Arrange rumaki on wire rack over shallow roasting pan and bake about 30 minutes, turning occasionally, until bacon is crisp. Serve at once.
Makes 2 dozen.