Rumaki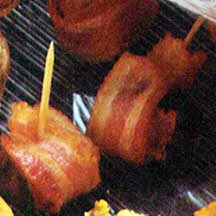 In this recipe for rumaki, chicken livers and slices of water chestnut are wrapped with bacon, brushed with a mixture of soy sauce, brown sugar and Dijon mustard, and broiled until crisp.
Recipe Ingredients:
16 slices bacon
1 pound chicken livers, cut into quarters
1 (8-ounce) can sliced water chestnuts, drained
1/3 cup soy sauce
2 tablespoons packed brown sugar
1 tablespoon Dijon mustard
Cooking Directions:
Cut bacon slices in half crosswise. Wrap 1/2 slice bacon around piece of chicken liver and water chestnut slice. Secure with wooden pick. Arrange on broiler pan.
Combine soy sauce, brown sugar and mustard in small bowl. Brush over bacon rolls.
Broil, 6-inches from heat, 15 to 20 minutes or until bacon is crisp and chicken livers are done, turning and brushing with soy sauce mixture occasionally.
Makes 32 appetizers.