Shrimp in Deviled-Egg Boats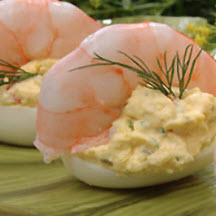 Deliciously elegant deviled eggs topped with succulent shrimp
Recipe Ingredients:
16 large shrimp, cooked, peeled and deveined
1/2 teaspoon seafood seasoning
8 large eggs, hard-boiled, peeled and cooled
4 tablespoons mayonnaise or sour cream
4 teaspoons flat-leaf parsley, minced
2 teaspoons Dijon mustard (or to taste)
1 teaspoon vinegar
2 teaspoons green onions, minced
1/4 teaspoon salt
1/4 teaspoon Worcestershire sauce
1/4 teaspoon black pepper
1/4 teaspoon curry powder
3 drops hot pepper sauce (optional)
Parsley, chopped for garnish
Cooking Directions:
In a small bowl, toss shrimp with seafood seasoning; cover and chill for 1 hour. Slice hard-boiled eggs in half lengthwise and remove yolks.
In a mixing bowl, mash yolks with a fork and add remaining ingredients. Spoon the yolk mixture into the egg white halves, mounding slightly.
Top each egg half with a seasoned shrimp and wedge into yolk filling. Arrange on a platter, garnish with parsley and chill until ready to serve.
Makes 16 appetizer servings.
Recipe and photograph courtesy of Florida Department of Agriculture Bureau of Seafood and Aquaculture.