Spicy Cheddar Cheese Straws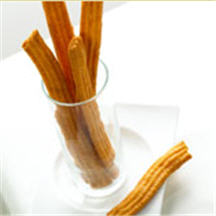 Serve these spicy cheddar cheese straws as an appetizer or as an accompaniment with soup or salad. Recipe by Chefs Greg and Mary Sonnier.
Recipe Ingredients:
1 pound Wisconsin Aged (such as 2 or 4-year) cheddar cheese, grated
3 sticks unsalted butter, softened
4 cups all purpose flour, sifted (sift before measuring)
1 tablespoon paprika
1 1/2 teaspoons ground cayenne pepper
1 teaspoon garlic powder
1/2 teaspoon salt
1/2 tablespoon Tabasco™ sauce
Cooking Directions:
Heat oven to 250°F (120°C). Line baking sheets with parchment paper.
In large bowl, beat cheese and butter at low speed with paddle attachment of electric mixer. Add remaining ingredients and mix on low speed until dough forms.
Press into strips on parchment paper using flat serrated disk of cookie press. Mark desired lengths with spatula.
Bake 35 to 45 minutes or until set and starting to brown. Cool on wire rack.
Makes 150 (2-inch) straws.
Recipe and photograph provided courtesy of Wisconsin Milk Marketing Board, Inc.