Spicy Cheese and Vegetable Dip with Pita Triangles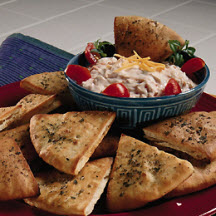 This recipe also gives directions for making 'yogurt cheese'.
Recipe Ingredients:
Yogurt Cheese*
1 (32-ounce) carton plain lowfat yogurt
Dip:
1/4 cup (1 ounce) shredded sharp cheddar cheese
2/3 cup finely shredded carrot
1/4 cup prepared salsa
Pinch salt
Pita Triangles:
4 pita bread rounds, cut into triangles
Cooking Directions:
To make the Yogurt Cheese: Spoon the yogurt into a large, fine-mesh strainer. Set over a bowl and drain in refrigerator for at least four hours. The longer refrigerated, the firmer the cheese will be. Discard the liquid. Store the cheese in the refrigerator in a tightly covered container until ready to use, up to 1 week. Makes 1 1/2 to 2 cups.
For the dip, in a medium bowl, combine 1/3 cup of the yogurt cheese with the dip ingredients until blended.
To serve, transfer the dip to a serving dish and serve with the pita triangles.
Makes 1 1/2 cups.
*Instead of making the yogurt cheese, you can use sour cream.
Recipe and photograph provided courtesy of Wisconsin Milk Marketing Board, Inc.