Spicy Herb and Cheese Frittata Wedges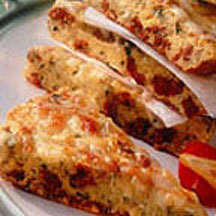 These spicy herb and cheese frittata wedges are wonderful served as appetizers or as a welcome addtion to a brunch buffet.
Recipe Ingredients:
1 cup (4-ounces) shredded white or yellow cheddar cheese
1 cup (4-ounces) shredded Colby cheese
1 cup (4-ounces) crumbled Feta cheese
1 cup (4-ounces) chopped jalapeños, drained
10 large eggs, beaten
1/4 cup finely chopped basil (or 2 teaspoons dried basil)
1/2 teaspoons salt
Cooking Directions:
Preheat oven to 350°F (175°C).
In a small bowl, mix cheeses together, set aside.
Lightly butter a 12 x 8-inch rectangular pan or a 10-inch oven proof skillet. Scatter jalapeños on bottom of pan. Top with cheeses.
In a medium-sized bowl, combine eggs, herbs and salt. Mix on medium speed for 4 minutes, or until very light and airy.
Pour eggs over cheese and bake for 25 to 30 minutes or until set. Let cool 10 minutes.
Makes 12 wedges.
Recipe and photograph provided courtesy of the American Dairy Association.