Sun Dried Tomato and Walnut Potatoes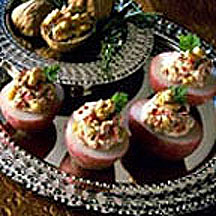 Sun dried tomatoes and walnuts add a tangy and crunchy punch to traditional potatoes.
Recipe Ingredients:
12 (about 1 1/2 pounds total) red-skinned boiling potatoes
15 sun dried tomato halves (not oil-packed)
1 teaspoon dried rosemary or 1 tablespoon chopped fresh rosemary
2 cloves garlic
1/2 cup fat free mayonnaise
1/3 cup nonfat cottage cheese
1 tablespoon fresh lemon juice
3/4 cup chopped California walnuts
Salt and ground pepper to taste
Cooking Directions:
Place the potatoes in a steamer rack in a large pan over boiling water. Cover the pan and steam until the potatoes are just tender when pierced, 15 to 20 minutes, depending on size. Cool to room temperature. Cut each potato in half and, using a knife point or a teaspoon, scoop out and discard 1 to 2 teaspoons of potato flesh. This impression will hold the filling later.
Cover the tomato halves with boiling water and soak for 10 minutes. Drain and pat dry. If necessary, cut away any tough edges or stems. Place the tomatoes in a food processor with the rosemary and garlic and process until coarsely chopped. Add the mayonnaise, cottage cheese and lemon juice and process until smooth. Add the walnuts and process until they are incorporated. Season with salt and pepper to taste. You will have about 1 1/2 cups tomato mixture.
Spoon about 1 tablespoon of the tomato mixture into each potato half.
Makes 24 appetizers.
Nutritional Information Per Serving (4 potato halves): 268 calories, 6g protein, 29g carbohydrate, 3g fiber, 264mg sodium, 1mg cholesterol, 10g total fat, 1g saturated fat
Recipe and photograph provided courtesy of Walnut Marketing Board.