Tamari and Spice Popcorn Mix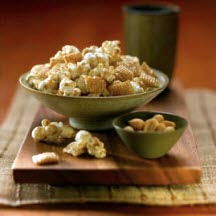 Tamari sauce is Japan's soy sauce, it is thicker than regular soy sauce and when combined with brown sugar, corn syrup and spices, makes an irresistible glaze for popcorn.
Recipe Ingredients:
7 cups popped popcorn
4 cups crispy corn and rice cereal
1/2 cup peanuts
1/2 cup packed brown sugar
1/2 cup light or dark corn syrup
1/3 cup butter
2 teaspoons tamari or soy sauce
1 teaspoon ground cinnamon
1/2 teaspoon ground ginger
1/8 teaspoon cayenne (optional)
Cooking Directions:
Preheat oven to 300°F (150°C). In a large, foil-lined baking pan, spread popcorn and cereal.

Sprinkle peanuts on top; set aside.

In a small saucepan, stir together brown sugar, corn syrup, butter, tamari sauce, cinnamon, ginger and cayenne, if desired, over medium heat.

Cook and stir until butter is melted and mixture is blended.

Pour over popcorn mixture and stir to coat.

Bake 30 minutes, stirring twice.

Remove from oven and stir; allow to cool.

Break into pieces and serve. Store in an airtight container.
Makes 12 (1 cup) servings.
Recipe and photograph provided courtesy of The Popcorn Board.