Three-Cheese and Artichoke Potstickers
with Roasted Tomato Salad and SarVecchio®Crema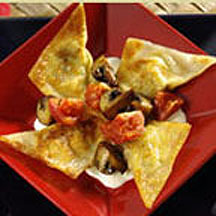 This delicious recipe for three-cheese and artichoke potstickers, with accompanying roasted tomato salad, was created by Chef Rhys Lewis.
Recipe Ingredients:
Potstickers:
12 baby artichokes (canned may be substituted)
1/4 cup olive oil
6 cloves garlic, peeled, chopped
6 shallots, peeled, chopped
1 quart vegetable or chicken stock
1 lemon, squeezed
4 sprigs thyme, fresh
Salt and ground black pepper, to taste
1 cup Wisconsin Aged Provolone Cheese
1 cup Wisconsin Parmesan Cheese, shredded
1 cup Wisconsin Asiago Cheese, shredded
2 tablespoons whole grain mustard
48 wonton wrappers
1/2 cup water
Roasted Tomato Salad:
8 plum tomatoes, sliced
12 crimini mushrooms, quartered
6 tablespoons extra virgin olive oil
2 cloves garlic, chopped
2 teaspoons fresh rosemary, chopped
Salt and ground black pepper, to taste
Wisconsin SarVecchio™ Crema:
1 cup heavy cream
1 cup Wisconsin SarVecchio™ Parmesan Cheese, grated
Cooking Directions:
For Potstickers: For fresh baby artichokes, trim outer leaves and cut 1/4 to 1/2 inch off the top of the artichokes.
Heat olive oil in saucepot; add garlic and shallots and sauté until translucent.
Add artichokes, chicken stock, lemon juice and thyme. Season with salt and pepper, to taste. Simmer until artichokes are tender, approximately 20 minutes.
Remove artichokes from cooking liquid and allow to cool. Chop into small pieces. If using canned artichokes, simply drain, chop into small pieces and proceed as follows.
In mixing bowl, combine Wisconsin Provolone, Parmesan, and Asiago cheeses with the mustard and chopped artichokes; blend well.
Place a small amount of cheese-artichoke mixture in the center of each wonton skin. Moisten edges with water and seal tightly with your fingers. (The wontons may be stored on wax paper lightly dusted with cornstarch and refrigerated until ready to cook).
Place a small amount of olive oil in the bottom of a preheated sauté pan. Add wontons, a few at a time, and brown on both sides. Add 1/2 cup water to the pan and quickly cover the pan to allow the wontons to steam through. Repeat this process until all wontons are first browned, and then steamed; reserve and keep warm.
For Roasted Tomato Salad: Preheat oven to 350°F (175°C).
Toss the plum tomatoes and crimini mushrooms in olive oil; season with garlic, rosemary, salt and pepper. Arrange in a single layer on a sheet pan and roast until tender, approximately 10 minutes. Remove from sheet pan and reserve until ready to serve. Cut into quarters and then half.
For Wisconsin SarVecchio™ Crema: Pour the heavy cream into a saucepot and bring to a simmer. Slowly stir in the Wisconsin SarVecchio™ Parmesan cheese until melted and fully incorporated. Reserve and keep warm until ready to serve.
To serve, pour a small amount of SarVecchio™ Crema in the center of the plate. Arrange four of the wontons on the sauce and garnish with a small amount of warm Roasted Tomato Salad.
Makes 12 appetizer servings.
Recipe and photograph provided courtesy of Wisconsin Milk Marketing Board, Inc.