Turkey, Artichoke and Tomato Tapas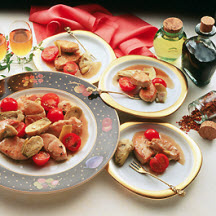 Recipe courtesy of National Turkey Federation.
Recipe Ingredients:
1 pound turkey tenderloins, cut into 3/4-inch medallions
2 teaspoons olive oil
1 (6-ounce) jar marinated artichoke hearts, drained, halved; juice reserved
1 to 2 tablespoons balsamic vinegar
1/4 teaspoon dried oregano
1/8 to 1/4 teaspoon red pepper flakes
1 large clove garlic, minced
6 to 8 cherry tomatoes, halved
Cooking Directions:
In large non-stick skillet, over medium heat, sauté turkey in oil 4 minutes per side or until turkey is golden brown and no longer pink in center and meat thermometer, inserted in thickest portion of tenderloin reaches 165°F (73.8°C).
In medium bowl combine artichoke juice, vinegar, oregano, pepper flakes and garlic. Fold turkey and artichokes into mixture. Cover and refrigerate overnight.
Before serving, fold in tomatoes.
Makes 6 servings.
Nutritional Information Per Serving (1/6 of recipe): Calories: 129; Total Fat: 4g; Cholesterol: 47mg; Total Carbs: 3g; Protein: 19g; Sodium: 185mg.
Recipe and photograph courtesy of National Turkey Federation.