Turkey Spinach and Artichoke Dip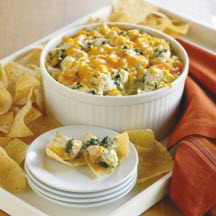 Leftover, cooked turkey and spinach make this classic dip even better. Ranch dressing and 2 types of cheese add even more flavor.
Recipe Ingredients:
Non-stick cooking spray
3 tablespoons olive oil
1 cup diced onions
1 1/2 teaspoon minced fresh garlic
2 (8-ounce) packages cream cheese, softened
1 cup ranch dressing
1 tablespoon hot sauce
2 cups leftover cooked diced Butterball® Turkey
1 (14-ounce) can artichoke hearts, drained, chopped
1 1/2 cups shredded Jack cheese
2 (6-ounce) bags fresh baby spinach, cooked, chopped, liquid squeezed out
1/2 cup freshly grated Parmesan cheese
1 cup shredded cheddar cheese
Tortilla chips for accompaniment
Cooking Directions:
Preheat oven to 350°F (175°C). Spray 9-inch square baking dish with cooking spray; set aside.
Cook and stir garlic and onions in oil in medium skillet on medium heat 3 to 5 minutes or until onions are soft. Remove from heat and cool.
Meanwhile, blend cream cheese, ranch dressing and hot sauce in mixing bowl. Stir in turkey, artichoke hearts, Jack and Parmesan cheeses, spinach and cooked onion mixture. Spoon into prepared baking dish. Bake 25 minutes. Remove from oven and sprinkle with cheddar cheese. Bake an additional 5 minutes or until cheese is completely melted.
Serve dip warm with tortilla chips.
Makes 12 servings.
Nutritional Information Per Serving (1/12 of recipe; dip only): Calories 421; Fat 37g; Cholesterol 92; Protein 15g; Saturated Fat 15g; Trans Fat 1g; Sodium 819mg; Carbohydrates 10g; Sugar 2g; Iron 10%; Fiber 8%; Calcium 30%.
Recipe and photograph provided courtesy of Butterball, LLC.