Black Bean Brownies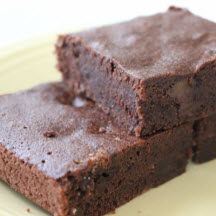 Fortified with nutritious, fiber-rich black beans, you can feel good about serving your family and friends these tasty brownies for a special treat.
Recipe Ingredients:
1 cup cooked or canned black beans, drained, rinsed and dried off
1/2 cup butter
2 (1-ounce) squares unsweetened chocolate
1/3 cup all purpose flour
Pinch of salt
2 large eggs
3/4 cup granulated sugar
1 teaspoon pure vanilla extract
2/3 cup semisweet chocolate chips
Cooking Directions:
Preheat oven to 350°F (175°C). Lightly grease an 8-inch square baking pan; set aside.
In a small saucepan over low heat, melt the butter and unsweetened chocolate, stirring frequently—and watching closely to prevent chocolate from burning—just until the chocolate and butter are melted and combined. Remove from heat; cool to room temperature.
In a medium bowl combine the flour and salt together.
In the bowl of a food processor add the black beans and the cooled butter/chocolate mixture. Process until smooth. Add the eggs, sugar and vanilla. Process until combined.
Add the chocolate mixture to the flour mixture and fold in gently leaving flour still visible. Add the chocolate chips and fold to combine. Spread the batter into prepared baking pan.
Bake for 28 to 30 minutes. Cool completely before cutting into squares. (These need to set awhile before eating.)
Makes 16 brownies.
Recipe and photograph courtesy of California Dry Bean Advisory Board.