Caramel Blondie Bars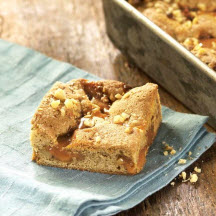 Treat your family and friends to these chewy blondies loaded with creamy caramel and crunchy nuts.
Recipe Ingredients:
25 Lancaster Caramel Soft Cremes
1 tablespoon plus 1 1/4 cups all-purpose flour - divided use
6 tablespoons butter or margarine, softened
3/4 cup packed light brown sugar
1 large egg
1 tablespoon milk
1 teaspoon vanilla extract
1/2 teaspoon baking soda
1/8 teaspoon salt
1/2 cup coarsely chopped nuts
Cooking Directions:
Preheat oven to 350°F (175°C). Grease 8 or 9-inch square baking pan. Remove wrappers from caramel candies. Cut each caramel into halves. Toss caramel pieces with 1 tablespoon flour so the pieces don't stick together.
Beat butter and brown sugar in large bowl until fluffy. Add egg, milk and vanilla; beat well. Stir together remaining 1 1/4 cups flour, baking soda and salt; add to butter mixture, beating until well blended.
Spread one half of batter in prepared pan. Sprinkle caramel pieces and nuts over batter. Drop remaining batter by the teaspoon over mixture. Gently spread batter to cover as much of the caramel pieces and nuts as possible.
Bake 25 to 30 minutes or until lightly browned. Cool completely in pan on wire rack. Cut into bars.
Makes 16 to 20 bars.
Recipe and photograph provided by www.lancastercandy.com via Brandpoint Content; Copyright 1996-2014.