Honey Coconut Pecan Bars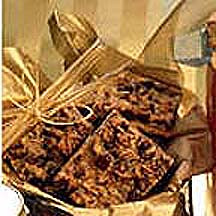 These delectable, honey-sweetened coconut and pecan bars will remind you of pecan pie, only with a graham cracker crust.
Recipe Ingredients:
1 cup graham cracker crumbs
1 cup plus 2 tablespoons all-purpose flour - divided use
1/2 cup cold butter or margarine
3 large eggs - divided use
1 cup honey
1 teaspoon vanilla extract
1/2 teaspoon baking powder
1/2 cup shredded sweetened coconut
1/2 cup semisweet chocolate chips
1 cup chopped toasted pecans
Cooking Directions:
Preheat oven to 350°F (175°C). Grease a 13x9x2-inch baking pan; set aside.
In food processor with metal blade, combine graham cracker crumbs, 1 cup flour and butter; pulse to combine. Mixture should resemble coarse meal. Add 1 egg and process until dough forms a ball. Press dough evenly into prepared baking pan.
Bake for 15 minutes, until crust is set and lightly browned. Allow to cool.
In medium bowl, combine remaining 2 tablespoons flour and 2 eggs with remaining ingredients until thoroughly blended.
Pour mixture over cooled crust and bake at 350°F (175°C) for 30 to 35 minutes, or until topping is firm and golden brown.
Allow to cool completely. Cut into squares.
Makes 24 bars.
Recipe and photgraph courtesy of the National Honey Board.