Pistachio Sport Bars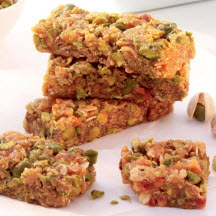 These nutritious and tasty homemade energy bars are loaded with satisfying protein and fiber.
Recipe Ingredients:
1 3/4 cups pistachios
1 cup dried banana chips
1 1/2 cups cornflakes
1/3 cup dried pears
1/3 cup dried apricots
1/3 cup honey
1/3 cup brown sugar, firmly packed
3/4 cup crisp oat flakes
Cooking Directions:
Chop the pistachios coarsely and banana chips finely. Partly crush the cornflakes. Cut the pears and apricots into small cubes.
Heat the honey and sugar over a double boiler until the honey and sugar are well combined. Mix in the pistachios, banana chips, cornflakes, pears, apricots and oat flakes. Spread the mixture in a 9x9-inch square dish lined with baking paper, approximately 1/2 inch deep, and press well into dish. The bars can also be formed individually and then be put on a baking tray lined with baking paper.
Bake the mix in a preheated oven at 350°F (175°C) for about 10 to 15 minutes. Cut into bars of approximately 1 1/2x2-inches and leave to cool on a tray.
Makes 24 bars.
Recipe and photograph provided by AmericanPistachios.org via Brandpoint Content; Copyright 1996-2014.