Beef Rib Eye Roast with Savory Sauce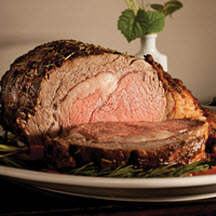 A beef rib eye roast is coated in a herb rub paste, roasted to perfection and served with a savory sauce made with pan juices, shallots, beef broth and a hint of tomato.
Recipe Ingredients:
1 (4-pound) beef rib eye roast
2 cloves garlic, minced
1 teaspoon salt
1 teaspoon freshly cracked black pepper
1 teaspoon dried thyme leaves
1/2 teaspoon dried tarragon leaves
1/4 cup finely chopped shallot
1 cup beef broth
1 tablespoon tomato paste
1/2 teaspoon granulated sugar
Cooking Directions:
Preheat oven to 350°F (175°C).
Combine garlic, salt, pepper, thyme and tarragon, stirring until a paste is formed. Spread evenly over surface of beef roast.
Place roast, fat-side up, on rack in shallow roasting pan. Insert meat thermometer so bulb is centered in thickest part, not resting in fat. Do not add water. Do not cover. Roast to desired doneness: 18 to 20 minutes per pound for rare, 20 to 22 minutes per pound for medium.
Remove roast from oven when meat thermometer registers 135°F (55°C) for rare or 155°F (65°C) for medium. Allow roast to stand 15 to 20 minutes before carving.
Meanwhile, remove rack from roasting pan; drain fat. Add shallot to pan; cook and stir over medium heat 2 to 3 minutes. Add broth, tomato paste and sugar; stir until meat juices attached to pan are dissolved. Increase heat to medium-high and continue cooking until liquid is reduced to 3/4 cup.
Carve roast across the grain into 1/4-inch thick slices.
Makes 12 servings.
Recipe and photograph courtesy of the Beef Industry Council.