Beef Rib Roast with Red Wine-Cherry Sauce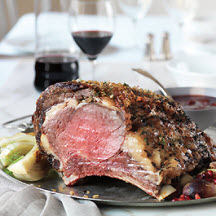 Recipe courtesy of The Beef Checkoff.
Recipe Ingredients:
1 beef rib roast bone-in (2 to 4 ribs), small end, chine (back) bone removed (6 to 8 pound)
1/4 cup plus 2 tablespoons minced shallots - divided use
2 tablespoons plus 1 teaspoon minced fresh thyme
1 to 1/8 teaspoon coarse grind black pepper - divided use
1 tablespoon unsalted butter
1 cup reduced to sodium beef broth - divided use
1 cup Columbia Crest Grand Estates Cabernet Sauvignon
1/2 cup dried cherries or cranberries
2 teaspoons cornstarch
Salt
Cooking Directions:
Preheat oven to 350°F (175°C).
Combine 2 tablespoons shallots, 2 tablespoons thyme and 1 teaspoon ground black pepper; press evenly onto all surfaces of beef Roast.
Place roast, fat to side up, in shallow roasting pan. Insert oven-proof meat thermometer so tip is centered in thickest part of beef, not resting in fat or touching bone. Do not add water or cover.
Roast in 350°F (175°C) oven 2 1/4 to 2 1/2 hours for medium rare; 2 3/4 to 3 hours for medium doneness.
Meanwhile, heat butter in large nonstick skillet over medium heat until melted. Add remaining 1/4 cup shallots and 1 teaspoon thyme; cook and stir 3 to 5 minutes or until shallots are tender and begin to turn golden. Add 3/4 cup broth, wine and cherries to skillet; bring to boil. Reduce heat; cook, uncovered, over medium heat 6 to 8 minutes, or until reduced to 1 1/2 cups.
Combine remaining 1/4 cup broth and cornstarch; whisk into wine mixture. Stir in remaining 1/8 teaspoon pepper; bring to a boil. Cook 1 to 2 minutes, or until sauce thickens, stirring occasionally. Season with salt, as desired.
Remove roast when meat thermometer registers 135°F (57.2°C) for medium rare; 150°F (68.3°C) for medium.
Transfer roast to carving board; tent loosely with aluminum foil. Let stand 15 to 20 minutes. (Temperature will continue to rise about 10°F to reach 145°F (62.7°C) for medium rare; 160°F (71.1°C) for medium.)
Carve Roast into slices; season with salt, as desired. Serve with Red Wine to Cherry Sauce.

Makes 15 servings.
Nutritional Information Per Serving (1/15 of recipe; 3 ounces): Calories: 206; Total Fat: 7g; Saturated Fat: 3g; Cholesterol: 76mg; Total Carbs: 5g; Fiber: 1g; Protein: 26g; Sodium: 83mg.
Recipe and photograph courtesy of The Beef Checkoff.