Beef Rib Roast with Yorkshire Puddings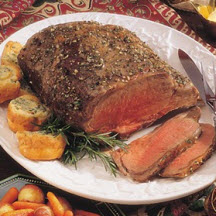 A beef rib roast with Yorkshire pudding, perfect fare for the holidays and special occasions. We can thank the British for Yorkshire Pudding, a popover-like pastry cooked in roast beef drippings. When done successfully, it puffs as high as a giant popover, and is crusty and savory from the natural drippings of the roast beef. The Yorkshire pudding bakes while the roast "rests" and can be brought to the table after you have carved the meat.
Recipe Ingredients:
1 (6 to 8 pound) beef rib roast (2 to 4 ribs), small end, chine (back) bone removed
6 cloves garlic, minced
1 1/2 teaspoons dried thyme
1 teaspoon cracked black pepper
Yorkshire Puddings:
1 cup all-purpose flour
1/4 teaspoon salt
1 cup milk
2 large eggs
4 tablespoons roast beef pan drippings*
Cooking Directions:
Preheat oven to 350°F.
Combine garlic, thyme and pepper; press onto beef roast. Place roast, fat side up, in shallow roasting pan. Insert ovenproof meat thermometer so tip is centered in thickest part of beef, not resting in fat or touching bone. Do not add water or cover.
Roast in 350°F oven 2 1/4 to 2 1/2 hours for medium rare; 2 3/4 to 3 hours for medium doneness.
Remove roast when meat thermometer registers 135°F for medium rare; 150°F for medium. Tent with foil. Let stand 20 minutes. (Temperature will continue to rise about 10°F to reach 145°F for medium rare; 160°F for medium.) Carve roast. Season with salt. Serve with Yorkshire Puddings.
For Yorkshire Puddings: Combine flour and salt in bowl.
In separate bowl, whisk milk and eggs; gradually add to flour mixture. Beat until smooth. (Refrigerate up to 1 hour, if desired.)
After removing roast, heat oven to 450°F.
Spoon pan drippings into 12 muffin cups; tip to coat bottoms. Fill halfway with batter.
Bake in 450°F oven 15 to 18 minutes or until puffed and golden. Serve immediately.
Makes 8 to 10 servings.
*If necessary, for lack of pan drippings, melted butter can be substituted.
Recipe and photograph provided courtesy of National Cattlemen's Beef Association.