Beef Steak with Brown Rice & Vegetables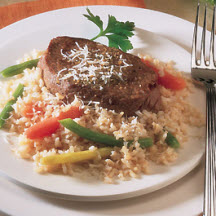 Marinated beef top sirloin steaks, seasoned with lemon pepper, are pan-grilled to perfection and served with a brown rice and vegetable medley seasoned with Caesar dressing.
Recipe Ingredients:
1 (about 1 pound) boneless beef top sirloin steak, cut 3/4-inch thick
1/3 cup prepared non-creamy Caesar dressing
2 teaspoons lemon pepper
1 cup uncooked instant brown rice
2 cups frozen vegetable mixture, such as baby green and yellow beans and carrots
2 tablespoons prepared non-creamy Caesar dressing
2 tablespoons freshly shredded Parmesan cheese (optional)
Cooking Directions:
Cut beef steak crosswise into four equal pieces. Place steaks and 1/3 cup dressing in food-safe plastic bag; turn steaks to coat. Close bag securely and marinate in refrigerator 15 minutes. Remove steaks from marinade; discard marinade. Season steaks with lemon pepper.
Heat large nonstick skillet over medium heat until hot. Place steaks in skillet; cook about 8 to 10 minutes for medium rare to medium doneness, turning once.
Meanwhile cook rice according to package directions, including the salt but omitting butter called for on package. When adding rice to saucepan in preparation, stir in frozen vegetable mixture also. When rice is done, stir in 2 tablespoons dressing.
Serve rice and vegetable medley with the steaks. Sprinkle with Parmesan cheese, if desired.
Makes 4 servings.
Nutritional Information Per Serving (1/4 of recipe): 361 calories; 31 g protein; 31 g carbohydrate; 13 g fat; 709 mg sodium; 77 mg cholesterol; 5.1 mg niacin; 0.4 mg vitamin B6; 2.4 mcg vitamin B12; 3.7 mg iron; 5.9 mg zinc.
Recipe and photograph provided courtesy of the Beef Industry Council.