Beef Tenderloin and Portobellos with Marsala Sauce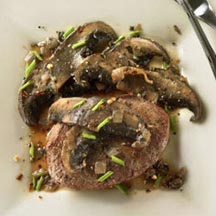 Marsala wine and spicy red pepper flakes elevate this heart-smart, diabetic-friendly dish to steakhouse quality.
Recipe Ingredients:
1 (6-ounce) package sliced portobello mushrooms
1/4 cup Marsala wine
3 teaspoons canola oil - divided use
1/8 teaspoon dried red pepper flakes
1/2 teaspoon coarsely ground black pepper
1/4 teaspoon salt
4 (4-ounce) beef tenderloin steaks
Canola oil cooking spray
2 large shallots, peeled and finely chopped (2 ounces total)
1 teaspoon low-sodium beef bouillon granules
1/4 cup water
1 to 2 tablespoons fresh chives, sliced diagonally
Cooking Directions:
Preheat oven to 200°F (95°C).
Place mushrooms in a large, resealable plastic bag. Add wine, 2 teaspoons canola oil, and pepper flakes. Seal bag and toss back and forth to coat evenly. Marinate for 15 minutes, turning frequently.
Meanwhile, sprinkle black pepper and salt evenly over beef, and let stand 15 minutes at room temperature. Heat 1 teaspoon canola oil in a large nonstick skillet over medium-high heat, tilting to coat bottom lightly. Add beef, cook 4 minutes on one side, turn, and cook 2 minutes or to desired doneness. Put on an oven-proof plate and place in the oven to keep warm.
Remove mushrooms from marinade, reserving marinade. Coat pan residue in skillet with cooking spray and cook shallots 30 seconds, stirring constantly. Add mushrooms, coat with cooking spray, and cook 3 minutes or until tender, stirring frequently using two utensils. Add reserved marinade, bouillon granules, and water. Boil for 1 minute to thicken; remove from heat.
Place steaks on individual dinner plates. Add any leftover beef juices to mushroom mixture, stir well, and spoon equal amounts over each steak. Sprinkle evenly with chives.
Makes 4 servings.
Nutritional Information Per Serving (1/4 of recipe; 1 steak plus 1/3 cup mushrooms): Calories 210; Total Fat 9g; Saturated Fat 2.5g; Cholesterol 60g; Sodium 420g; Carbohydrates 6g; Fiber 1g; Protein 23g.
Recipe and photograph courtesy of "The Heart-Smart Diabetes Kitchen: Fresh, Fast and Flavorful Recipes Made with Canola Oil" from the American Diabetes Association and CanolaInfo.