Chuck Roast with Chipotle Pepper Sauce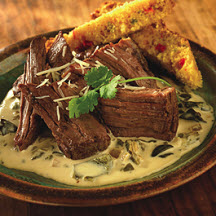 A smoky pepper sauce adds a delicous flavor twist to classic pot roast.
Recipe Ingredients:
3 pounds chuck roast (arm, shoulder or blade)
1 teaspoon kosher or sea salt
1/4 teaspoon pepper, or to taste
1 tablespoon plus 1 teaspoon olive oil - divided use
Water, as needed
1 medium sweet onion, finely chopped
1 chipotle chili pepper in adobo sauce, minced
2 poblano peppers, roasted, skinned, seeds removed and diced
4 cloves garlic, minced
1/4 cup beef broth
2 cups heavy cream
1/4 teaspoon kosher or sea salt, or to taste
1/2 teaspoon granulated sugar
Fresh cilantro leaves, finely chopped for garnish
Freshly grated Romano or Parmesan cheese for garnish
Cooking Directions:
Preheat oven to 325°F (160°C).
Season beef with salt and pepper.
Brown beef on all sides in 1 teaspoon olive oil in heavy, preheated pan; pour off drippings.
Add 1 to 2 inches water into pan; do not cover beef with water. Cover tightly with foil or lid and braise in oven for 2 1/2 to 3 hours. Do not uncover during braising.
Allow roast to rest 15 minutes.
While the roast cooks, place remaining olive oil in medium fry pan over medium-high heat. Cook onions until golden and caramelized, stirring frequently; add the peppers and garlic.
Deglaze pan with broth and reduce volume by half.
Add cream and reduce by half again. Season sauce with salt and sugar.
Serve beef atop sauce or drizzled with sauce, garnished with cilantro and cheese.
Makes 8 servings.