Easy Beef Steak Diane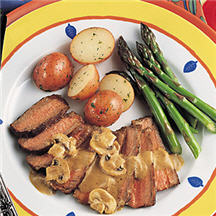 Turn your kitchen into a bistro when you serve this simple, yet elegant beef dish.
Recipe Ingredients:
2 (about 1 1/4 pounds) boneless beef top loin steaks, cut 1-inch thick
1 teaspoon grated lemon peel
1/4 teaspoon ground black pepper
Sauce:
1 tablespoon vegetable oil
1/2 pound small mushrooms, sliced
2 tablespoons finely chopped shallots or green onion
1 tablespoon brandy (optional)
1/4 cup half-and-half
1 tablespoon fresh lemon juice
2 teaspoons Dijon-style mustard
2 teaspoons Worcestershire sauce
Glaze:
2 tablespoons orange marmalade
2 teaspoons Dijon-style mustard
Cooking Directions:
Heat oil in large nonstick skillet over medium heat until hot. Add mushrooms and shallots; cook and stir 3 minutes or until tender. Remove.
Wipe skillet out with paper towels; spray with cooking spray. Heat over medium heat until hot.
Combine lemon peel and pepper; press onto beef steaks. Place steaks in skillet; cook 12 to 15 minutes for medium rare to medium doneness, turning occasionally. Remove; keep warm.
Add brandy to skillet; cook and stir until browned bits attached to skillet are dissolved. Stir in half-and-half, lemon juice, mustard and Worcestershire sauce. Stir in mushroom mixture; heat through. Carve steaks. Serve with sauce.
Makes 4 servings.
Recipe and photograph provided courtesy of the Beef Industry Council.