Fancy Yankee Pot Roast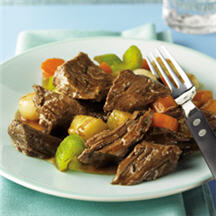 Red wine and fresh thyme puts the fancy in an all-time Yankee favorite, pot roast -- literally a one-pot meal.
Recipe Ingredients:
1/4 cup pure olive oil
3 onions, sliced
1 (3 to 4 pound) top or bottom round beef roast
All-purpose flour, for dredging
8 slender carrots, or fatter ones cut in half or quartered
3 ribs celery, cut in half
2 1/2 cups beef broth
1 1/2 cups hearty red wine
5 to 6 sprigs fresh thyme
1 rounded teaspoon freshly ground black pepper
Salt to taste
2 tablespoons unsalted butter, at room temperature
2 rounded tablespoons all-purpose flour
Cooking Directions:
In a large, heavy flameproof casserole, preferably cast iron, over medium heat, heat the olive oil and sauté the onions until golden. Thoroughly dredge the beef in the flour, covering all the surfaces. Add to the pan and brown on all sides. The flour may cause the onions to burn slightly. This is good and will add lots of flavor. Add the carrots, celery, beef broth, wine, thyme, black pepper and salt to taste. Reduce heat, partially cover, and barely simmer for 3 to 3 1/2 hours, turning the beef occasionally. Remove the carrots and celery when they are cooked and reserve.
When the beef is falling apart tender, remove it from the broth. Remove the thyme sprigs. Knead the butter and 2 tablespoons flour together until thoroughly combined. Add the mixture to the broth and stir with a wooden spoon until you have a sauce the consistency of buttermilk. Remove from the heat.
To serve, slice the beef and arrange on a platter. Cover with some of the sauce. Put the remaining sauce in a bowl or gravy boat. Arrange the carrots and celery attractively on the beef platter. Garnish with fresh thyme sprigs, if you like. Serve immediately.
Makes 6 servings.
Recipe and photograph provided courtesy of the Beef Industry Council.