Garlicky Beef Roast with Grilled Tomato Pesto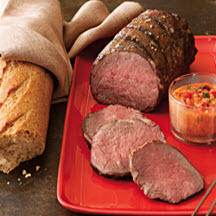 Recipe courtesy of The Beef Checkoff.
Recipe Ingredients:
5 cloves garlic - divided use
2 1/4 teaspoon ground black pepper - divided use
1 beef ribeye petite roast (1 1/2 to 2 pounds)
4 large plum tomatoes, cut lengthwise in half
1 cup loosely packed fresh basil
1/4 cup freshly grated Parmesan cheese
1 tablespoon olive oil
1/2 teaspoon salt
Cooking Directions:
Prepare grill for indirect cooking by igniting equal number of charcoal briquettes on each side of fire grate, leaving space in center. When coals are medium, ash-covered (25 to 30 minutes), add 3 to 4 more briquettes to each side. Place aluminum foil drip pan in center of grate between coals. Position grid with handles over coals so briquettes may be added during grilling as needed.
Meanwhile, mince 3 cloves garlic; combine with 2 teaspoons pepper. Press evenly onto all surfaces of beef roast.
Place roast in center of grid over drip pan. Arrange tomatoes, cut to side down, around roast over coals.

Grill roast, covered, 45 to 60 minutes for medium rare to medium doneness, turning once. (Add 3 to 4 briquettes per side every 30 minutes to maintain heat level.)
Grill tomatoes, covered, 4 to 6 minutes or until skins begin to brown and tomatoes are softened, turning once.
Remove roast when instant to read thermometer inserted into thickest part of beef registers 135°F (57.2°C) for medium rare; 150°F (68.3°C) for medium.
Transfer roast to carving board; tent loosely with aluminum
foil. Let stand 10 to 15 minutes (Temperature will continue to rise about 10°F to reach 145°F (62.7°C) for medium rare; 160°F (71.1°C) for medium.)
To Make Tomato Pesto: Place tomatoes, basil, cheese, remaining 2 cloves garlic, oil, salt and remaining 1/4 teaspoon pepper in food processor or blender container. Cover; process until smooth.
Carve roast into slices. Serve with tomato pesto.
Makes 6 servings.
Tip: To prepare on gas grill, preheat grill according to manufacturer's directions for medium indirect heat. Place roast and tomatoes on grid as directed above. Grill time for roast will remain the same. Grill tomatoes 6 to 9 minutes.
Nutritional Information Per Serving (1/6 of recipe): Calories: 205; Total Fat: 10g; Saturated Fat: 3g; Cholesterol: 75mg; Total Carbs: 4g; Fiber: 1g; Protein: 26g; Sodium: 248mg.
Recipe and photograph courtesy of The Beef Checkoff.