Grilled Teriyaki Steak Kabobs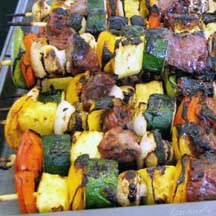 There's just something festive about cooking meat and vegetables on a stick!
Recipe Ingredients:
Marinade:
1/2 cup pineapple juice
1/4 cup soy sauce
2 tablespoons vegetable oil
Juice of 1 fresh lemon (3 tablespoons)
1 tablespoon brown sugar, firmly packed
2 to 3 garlic cloves, finely minced
2 1/2 pounds tri-tip steak, 1-inch thick; cut into 1-inch cubes
1 fresh pineapple cut into 1 to 1 1/2-inch chunks*
1 large red or white onion, quartered
4 medium bell peppers (use a variety of colors for a nice presentation), cut into 1-inch pieces
1/2 pound whole fresh mushrooms
2 medium zucchini, sliced into 1-inch rounds
12 (10 to 12-inch) wooden bamboo skewers, soaked in water for 10 minutes
Hot cooked long grain rice for accompaniment (optional)
Cooking Directions:
For Marinade: In large zipper-lock style plastic bag, or a shallow glass dish, combine the pineapple juice, soy sauce, oil, lemon juice, brown sugar and garlic. Mix well.
Place steak cubes in marinade and allow to marinate at room temperature for 2 to 3 hours or for several hours in the refrigerator, turning the bag over occasionally to ensure meat is evenly marinated.
Remove steak cubes from marinade; reserve marinade.
To assemble kabobs, alternately thread the meat, pineapple and vegetables onto the water-soaked bamboo skewers.
Grill kabobs over medium-hot heat, about 8 to 10 minutes on each side for medium-well or until desired doneness.
Meanwhile, bring the reserved marinade to a boil in a small saucepan and simmer, uncovered, for 3 minutes, strain and brush over kabobs just before removing from grill.
Serve kabobs on a bed of hot fluffy long grain rice, if desired.
Makes 12 servings.
*1 (20-ounce) can pineapple chunks in juice can be substiuted for the fresh pineapple and the pineapple juice.
Nutritional Information Per Serving (1/12 of recipe): 226.2 calories; 33% calories from fat; 8.1g total fat; 62.4mg cholesterol; 357.5mg sodium; 625.3mg potassium; 16.7g carbohydrates; 2.1g fiber; 11.6g sugar; 14.6g net carbs; 22.4g protein.
Recipe and photograph by Hope Cantil; copyright © 1999; property of CooksRecipes.com. See Terms of Use.