Italian Beef & Pasta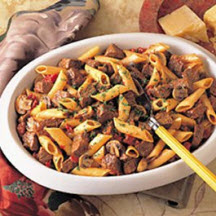 Tender chunks of beef, onion, mushrooms and mostaccioli pasta in an Italian-seasoned tomato sauce, garnished with Parmesan cheese.
Recipe Ingredients:
1 1/4 pounds boneless beef chuck steaks, cut 1/2-inch thick
1 tablespoon vegetable oil
1 medium onion, chopped
1 large clove garlic, minced
1 teaspoon dried Italian seasoning
1 (14.5-ounce) can Italian-style stewed tomatoes, undrained, broken up
1 (13.75 to 14.50-ounce) can ready-to-serve beef broth
1/4 cup dry red wine
1/2 pound small mushrooms, halved
4 ounces uncooked mostaccioli (1 1/2 cups)
2 tablespoons freshly grated Parmesan cheese
Cooking Directions:
Cut beef steaks into 1-inch pieces. Heat oil in Dutch oven over medium heat until hot. Brown beef, 1/2 at a time; remove. Pour off drippings.
Add onion, garlic and Italian seasoning to Dutch oven; cook and stir 2 minutes. Add beef, tomatoes, broth and wine; bring to a boil. Reduce heat; cover tightly and simmer 1 1/2 hours or until beef is tender.
Stir in mushrooms and mostaccioli; continue cooking, covered, 20 minutes. Uncover; continue cooking 10 minutes or until pasta is tender. Stir in cheese.
Makes 6 servings.
Recipe and photograph provided courtesy of the Beef Industry Council.