New England Pot Roast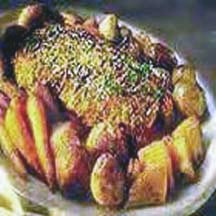 Everybody loves pot roast, it is comfort food at its best! Potatoes and carrots don't seem humble on a platter next to a juicy piece of slow-cooked meat.
Recipe Ingredients:
1/4 cup all-purpose flour
1 tablespoon salt
1 teaspoon ground black pepper
1 (4-pound) boneless beef roast, (chuck or rump)
2 tablespoons vegetable shortening
1 (5-ounce) jar horseradish
1 cup water
8 potatoes, scrubbed and cut into 1/2-inch wedges
8 carrots, peeled and cut into 1-inch pieces
Cooking Directions:
Mix flour, salt and pepper and rub thoroughly over roast.
Melt shortening in a large pot and brown meat on all sides. Carefully spread horseradish on all sides of the roast. Add water and bring to a boil. Cover, reduce heat and simmer for 3 hours, or until meat is very tender. Add potatoes and carrots about 1 hour before meat is done. Serve warm.
Makes 8 servings.
Recipe and photograph provided courtesy of Beef Industry Council.