Pepper Steak with Rice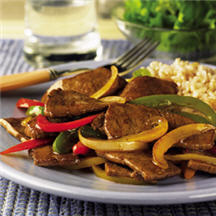 Tender beef simmered to a melt-in-your mouth tenderness with tomatoes, peppers and garlic. A perfect accompaniment to freshly steamed rice.

Recipe Ingredients:
1 1/2 pounds round steak, cut into thin strips
1 tablespoon paprika
3 cloves garlic, crushed
2 tablespoons butter or margarine
1 cup sliced green onions
1 small green bell pepper, seeded and cut into strips
1 small red bell pepper, seeded and cut into strips
1 small yellow bell pepper, seeded and cut into strips
3 small tomatoes, seeded and diced
1 cup beef broth
1/4 cup plus 1 1/2 teaspoons water
2 tablespoons cornstarch
2 tablespoons soy sauce
Hot cooked rice for accompaniment
Cooking Directions:
Sprinkle steak with paprika and allow to stand while preparing other ingredients.
Melt butter in a large skillet over medium-high heat. Add steak and sauté until browned.
Add garlic and sauté until fragrant, about 30 seconds. Add green onions and bell peppers to skillet and sauté for 3 minutes, or until tender. Stir in tomatoes and broth; bring to a boil. Cover, reduce heat and simmer for 15 minutes.
Meanwhile, combine water, cornstarch and soy sauce in a small bowl. Stir into skillet and cook until thickened.
Serve over hot rice.
Makes 6 servings.
Recipe provided courtesy of USA Rice Council.