Pot Roast with Cider-Maple Gravy and Mashed Butternut Squash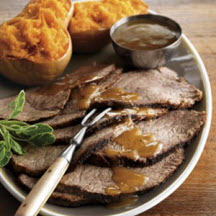 With ingredients like apple cider, maple syrup and butternut squash, this recipe for a simple pot roast meal bursts with classic fall flavors.
Recipe Ingredients:
1 beef Bottom Round Roast (3 to 4 pounds)
4 teaspoons olive oil - divided use
1 cup beef broth
3/4 cup apple cider
2 medium butternut squash, cut lengthwise in half, seeded
3 tablespoons cornstarch dissolved in 3 tablespoons water
Cooking Directions:
Press 3/4 teaspoon pepper evenly onto all surfaces of beef roast. Heat 2 teaspoons oil in stockpot over medium heat until hot. Place roast in stockpot; brown evenly. Pour off drippings.
Season roast with 1 teaspoon salt. Add broth and cider; bring to a boil. Reduce heat; cover tightly and simmer 2 1/2 to 3 1/2 hours or until roast is fork-tender.
Meanwhile preheat oven to 375°F (190°C). Brush cut sides of squash halves with remaining 2 teaspoons oil. Place squash, cut sides down, on metal baking sheet. Bake 45 to 55 minutes or until fork-tender. Cool slightly. Scoop squash flesh into large bowl; discard shells or use for serving, if desired. Mash squash with back of spoon or fork until almost smooth. Season with salt and pepper, as desired; keep warm.
Remove roast; keep warm. Skim fat from cooking liquid. Stir in cornstarch mixture and maple syrup; bring to a boil, stirring constantly. Cook and stir 2 to 3 minutes or until slightly thickened.
Carve roast into thin slices. Serve with gravy and squash.
Makes 8 to 10 servings.
Recipe and photograph courtesy of The Beef Checkoff.