Ranch Roast and Red Beans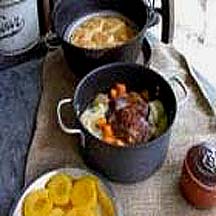 This western-style roast and red beans dish was a favorite of the chuckwagon cook and as well as the trailrider.
Recipe Ingredients:
Red Beans:
1 pound pinto beans
1 pound ham hocks
2 1/2 tablespoons chili powder
1/3 cup granulated sugar
Salt, to taste
1 small onion, chopped
Barbecue Sauce:
1 cup catsup
1/2 teaspoon Tabasco sauce
1/2 teaspoon coarse black pepper
4 tablespoons Worcestershire sauce
1 teaspoon dry mustard
2 small cloves garlic, chopped
1/2 cup lemon juice
1 cup margarine or butter
Ranch Roast:
1 (3 pound) beef arm or chuck roast
1 1/2 teaspoon salt
1/4 cup all-purpose flour
2 tablespoon vegetable oil
1 pound carrots
3 pounds potatoes
4 medium onions, quartered
Cooking Directions:
For Red Beans: Soak beans in water overnight; drain.
Put fresh water to cover beans. Place over medium heat. When water is hot, add ham hock; simmer 2 hours.
Add sugar, chili powder and onion; continue to simmer 2 additional hours. Add salt 15 minutes before removing from heat.
For Barbecue Sauce: Combine all ingredients in saucepan and simmer 15 minutes.
For Ranch Roast: Rub roast with salt and flour. Heat oil in Dutch oven and brown roast on all sides. Drain excess oil.
Pour Barbecue Sauce over roast and cook, covered, 2 hours.
Add vegetables and cook additional 1 hour, or until beef and vegetables are tender.
Serve with Red Beans.
Makes 6 to 8 servings.
Recipe courtesy of The Beef Checkoff.