Sautéed Sirloin and Mushrooms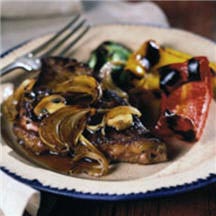 Hoisin sauce, traditionally an oriental condiment, gives the mushroom glaze a subtle, sweet-and-tangy flavor.
Recipe Ingredients:
1 to 1 1/4 pound boneless beef sirloin steak, cut 1/2-inch thick
3/4 teaspoon herb pepper or 1/4 teaspoon garlic pepper
1 tablespoon margarine or butter
3/4 cup beef broth
1 tablespoon hoisin sauce, teriyaki sauce, or Worcestershire sauce
1 small onion, cut into very thin wedges
1 3/4 cups sliced fresh mushrooms
Cooking Directions:
Cut steak into four serving-size pieces. Sprinkle with herb pepper or garlic pepper. In a 10-inch skillet cook steaks in hot margarine or butter over medium heat for 8 to 10 minutes or to desired doneness (145°F for medium doneness), turning once. Remove steaks from pan; cover and keep warm.
For mushroom glaze, carefully add beef broth and hoisin, teriyaki, or Worcestershire sauce to skillet. Cook and stir until bubbly, scraping brown bits from the bottom of the pan. Stir in onion wedges and sliced mushrooms. Cook over medium-high heat about 8 minutes or until vegetables are tender and the glaze is reduced by half its volume (to 1 cup). Transfer warm steak to dinner plates and spoon glaze atop.
Makes 4 servings.
Serving Suggestions: Jazz up your dinner plate with broiled sweet peppers. Cut sweet peppers (any color) into wide strips, brush with vegetable oil, and broil until charred. Remove peel, if desired. Serve with a basket of toasted garlic bread.
Nutritional Information Per Serving (1/4 of recipe): calories: 247, total fat: 13g, saturated fat: 5g, cholesterol: 76mg, sodium: 410mg, carbohydrate: 3g, fiber: 1g, protein: 27g, vitamin A: 3%, vitamin C: 3%, calcium: 1%, iron: 24%
Recipe and photograph provided by Better Homes and Gardens - BHG.com a member of the Home and Family Network for the best of cooking, gardening, decorating and more. © 2003 Meredith Corporation. All Rights Reserved.