Sirloin Steak with Black Soybean Salsa and Miso Orange Sauce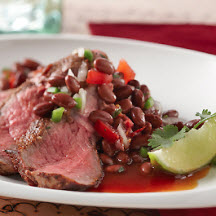 Recipe courtesy of The Soyfoods Council.
Recipe Ingredients:
Black Soybean Salsa:
1 (15-ounce) can black soybeans, drained and rinsed
1 small tomato, diced
1/4 small yellow onion, finely chopped
2 cloves garlic, minced
1 tablespoon chopped cilantro
1 1/2 jalapeños, minced
1 1/2 limes
1 teaspoon smoked tomato powder
Sirloin Steak:
1 cup water
1 tablespoon ground cumin
Salt to taste
2 cloves garlic, minced
1 tablespoon achiote powder
2 limes
3 to 4 ounces Top Sirloin Cap Steaks
2 tablespoons adobo seasoning
Lime wedges and cilantro for garnish
Miso Orange Sauce:
1/2 cup raw sugar
1/4 cup rice vinegar
8 cups orange juice
1 to 2 tablespoons white miso
2 tablespoons Mirin
1 tablespoon achiote powder
2 ounces butter
Salt to taste
Cooking Directions:
Prepare Black Soybean Salsa: In a medium bowl, add black soybeans, tomato, onion, garlic, cilantro and jalapeños, mix. Juice the limes, add to soybean mixture. Add tomato powder and salt to taste. Mix gently and let set for two hours before serving.
For Sirloin Steak: In a small pan, add water, cumin, salt, garlic, achiote powder and bring to a boil. Remove from heat, cool rapidly. Once cooled, add juice of 2 limes and the beef. Let marinate for 15 to 20 minutes.
Preheat oven to 200°F (93.3°C).
Place meat on rack to drain. Dust beef with adobo seasoning, place in baking pan, bake at 200°F (93.3°C) for 20 minutes.
Increase oven heat up to 400°F (205°C), bake an additional 10 minutes.
Take out of oven, let meat rest for an additional 4 to 6 minutes before serving.
For Miso Orange Sauce: In a large heavy bottom sauté pan, over medium heat, add sugar and caramelize. Once sugar is completely dissolved and a caramel color is apparent, remove from heat and deglaze with rice wine vinegar. (Use caution as it will bubble up). Add orange juice, bring to a boil, then lower heat. Simmer until total amount of liquid is reduced to about 2 cups of liquid. Remove from heat, add remaining ingredients except butter. Mix well, cook for an additional 10 minutes on low heat. Remove from heat, strain into a holding container, whisk in butter. (Note: Use sauce within 10 to 15 minutes of preparation.)
Place steak on 3 serving plates. Add soybean salsa to each plate and then drizzle with Orange Sauce. Garnish with limes and cilantro. Serve immediately.
Makes 3 servings.
Recipe and photograph courtesy of The Soyfoods Council.