Sizzling Steak Stuffed Potatoes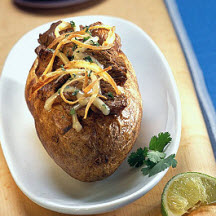 Recipe courtesy of Chef Elias Iglesias of Morton's-The Steakhouse in New York City, New York.
Recipe Ingredients:
Potatoes:
4 large Idaho® potatoes (16 to 20 ounces each), scrubbed
24 ounces sirloin steak, trimmed, and sliced into 1/4-inch thick strips
1 cup all to purpose flour
1 teaspoon salt
1/2 teaspoon white pepper
1 Spanish onion
1 cup vegetable oil
8 ounces Monterey Jack cheese, shredded
1 small bunch cilantro, chopped
Marinade:
3 cloves garlic, finely chopped
1/4 cup soy sauce
1/4 cup fresh lime juice
2 tablespoons Worcestershire sauce
1 tablespoon salad oil
1 teaspoon salt
1/2 teaspoon ground black pepper
1/2 teaspoon whole thyme
1 pinch cayenne pepper
Cooking Directions:
Bake the potatoes in a preheated 375°F (190°C) oven for 1 hour, or until cooked through.
Prepare the marinade. In a bowl large enough to hold the steak, whisk together all the marinade ingredients until the salt is dissolved. Add the sliced steak and marinate for about 20 minutes prior to cooking.
In a mixing bowl, combine flour, salt and white pepper.
Cut both ends off the onion. Peel and cut the onion in half lengthwise, then again into thin slices. Add onions to the flour mixture and fully coat with the mixture. Set aside.
Remove the potatoes from the oven. Cut off the top third of the potato lengthwise and reserve this for another use. Carefully scoop out about half of the cooked potato from the inside, also reserving this for another use. The potato should look like a canoe. Place the hollowed out potatoes in the oven and cook for 5 to 8 minutes, until crispy.
While the potatoes are in the oven, heat the oil in a large sauté pan. Shake excess flour from the onions, add to the hot oil and fry until crispy (or alternately deep to fry). Do not over crowd the pan. Fry in two batches, if necessary. Drain on paper towels and set aside.
Drain off excess marinade from the meat and grill steak on a preheated grill for 2 to 3 minutes. Place the steak into the crispy hollowed out potatoes; it should overflow slightly. Top each potato with 2 ounces of cheese and return to the oven just long enough to melt the cheese.
Remove from the oven and garnish with onions and cilantro. Serve immediately.
Makes 4 servings.
Recipe and photograph courtesy of the Idaho Potato Commission.